I'm a little embarrassed that I still remember the rules of this game, but I'm not going to lie...it's a little exciting.
So I'll start by telling you how I realized this. While I was living in LA, I met a French dude (They're always French) named Alain. Alain, like everyone trying to make it in LA, passed time and paid bills as a bartender at
Snow White's
. I loved that place while I was living in LA. My co-workers and I would always venture there after a hard day at work. Alain would always be there doing his job and just being awesome. Everyone I know who knows Alain loves Alain, and if you didn't you were some kind of freak.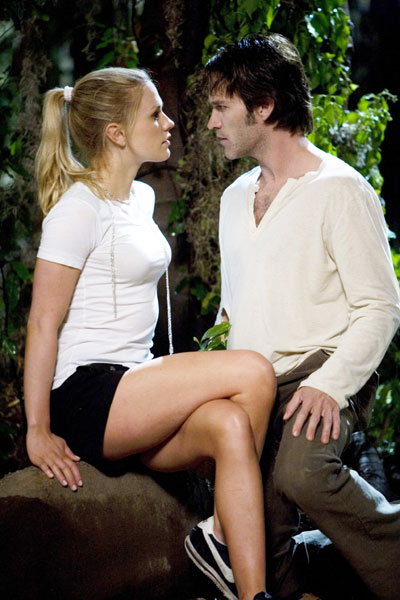 Okay so is friends with
Jim Parrack
who plays Hoyt on
True Blood
. I don't know how they know each other, but I while on Facebook today (I WAS BORED!!!), I saw that they knew each other. If the loyal legion knew Alain like I know Alain, they would know that Alain ain't the type to add somewhat famous people to their list of facebook friends just because they're famous. So I'm assuming that they know each other because of some acting gig, class, or circle.
If someone were to really sit down and give a shit about what I'm writing about they would see that in actuality I am really only two degrees away from The Skarsgard, but I stretched that shit out just to stay within the rules of six degrees of separation.
Moving on, Parrack's character Hoyt is in love with
baby vamp Jessica
whose maker is Bill, the vampire who is in love with Sookie.
Sookie
is a sometimes very annoying waitress who was once
tricked by Eric
, played by
Alexander Skarsgard
, to save his after a Christian group tried to blow up a vampire party in Dallas.
Okay so here are all of the degrees; all stretched out and shit:
Me
After I figured all of this stuff out, I realized not only am I incredibly bored but I'm also ridiculous. This is what happens when I don't have to work for some time. Unplanned mini-vacations are hell when there is absolutely nothing to do. Maybe I'll go find a book I haven't read, or write one.