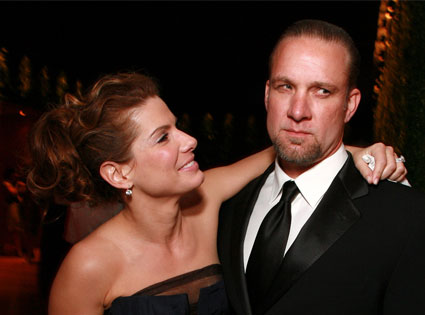 Although he says that majority of the allegations are untrue and unfound he does admit to some wrong doing, but the damage is done. The couple that I just knew would work are no longer. Sandra quit this bitch and officially moved out of the home she shared with James.
"There is only one person to blame for this whole situation, and that is me. It's because of my poor judgment that I deserve everything bad that is coming my way. This has caused my wife and kids pain and embarrassment beyond comprehension and I am extremely saddened to have brought this on them. I am truly very sorry for the grief I have caused them. I hope one day they can find it in their hearts to forgive me."
I never understand why these people release public statements. I (the public) can just settle for a confirmed check yes, no, or maybe answer. It can go something like this: Did Jesse Cheat? with three little boxes and a check in the yes box.
I feel pain for Sandra though. This woman was just on stage a few days ago accepting her Oscar and talking about how much of a good man he is to her and now this. Dude you were crying.
Hell you made me cry!
HOW DARE YOU MAKE ME CRY IF YOU KNEW WHAT YOU WERE DOING!
And no condoms. I think that's the one thing I have the biggest issue with. I don't believe in casual sex, but if there is ever an instance in which I do engage in such behavior...you better believe I'm making that mofo wear a condom. People are out here going raw like people ain't nasty. Not only did he make Sandra look like a fool but he put her health in danger. That's just so low.
Man I wish I knew Sandra personally. We would have to go looking for that bish. She's German and I'm for the south side, we can do some damage